SERVICEINDICATOR: receiver for efficient service
Learn how the Service Indicator informs you in real time about the wishes of your guests and thus ensures more efficient workflows in your restaurant. Be curious about our contribution!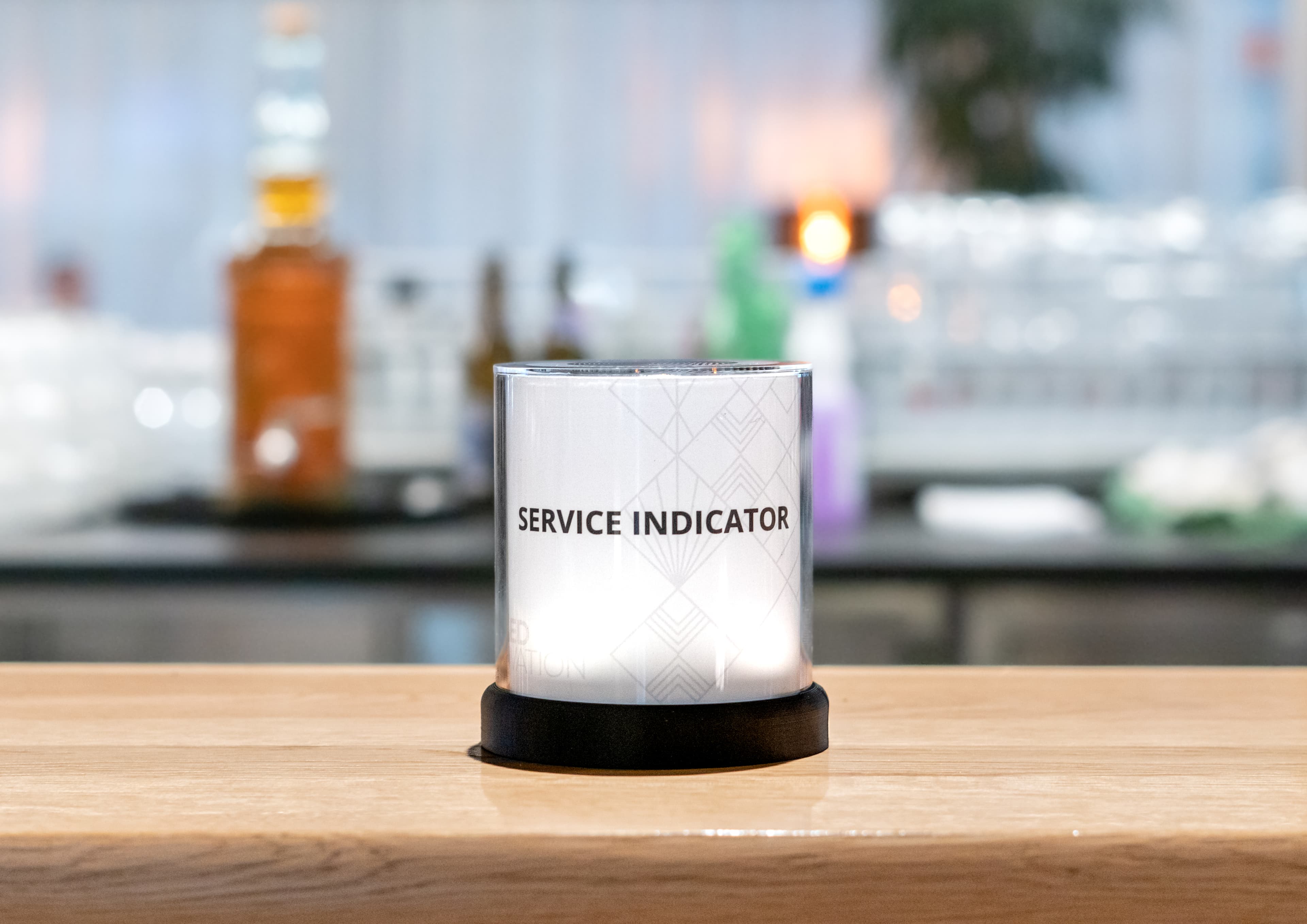 With our waiter call system, the guest's request can be displayed on any number of receiving devices at the same time, e.g. at the counter, in the kitchen and at reception - you know about your guests' requests everywhere.
The SERVICETUBE® is a small, smart device that is placed on every table in your restaurant. In its resting phase, it glows white. However, if a guest wants to order something or make a service request, they simply touch the SERVICETUBE®. It then lights up red, signalling that the guest needs assistance.
And how is the service staff informed about this requirement?
This is where our SERVICEINDICATOR comes into play. The SERVICEINDICATOR is a dedicated receiver device that receives and visualises the signals from the SERVICETUBE®s. The advantage: the SERVICEINDICATOR can be placed anywhere in the restaurant - at the counter, in the kitchen or at reception. This way, you and your team are always informed about your guests' wishes and can react to them efficiently.
With our app, you also have the option of turning every SERVICETUBE® into a SERVICEINDICATOR and vice versa. This allows you to react flexibly to the requirements of your business.
Another highlight of our waiter call system is the ability to divide tables into sections. You can individually configure different areas of the restaurant - such as dining rooms or separate parlours - and assign them to the SERVICETUBE®s and SERVICEINDICATORS via the app. Depending on the sector, the SERVICEINDICATOR can light up in a different colour. This allows you and your team to see at a glance which sector a service request is coming from.
Each SERVICETUBE® can be assigned to a section. Each SERVICEINDICATOR can then receive requests from one or more sections.
With our waiter call system, long waits for the waiter are a thing of the past. Your guests can express their wishes whenever they want and your service staff can respond quickly and efficiently. It not only increases the satisfaction of your guests, but also optimises the workflows in your restaurant.
Our waiter call system is therefore a real game changer for the catering industry. It simplifies communication between guests and service staff, optimises work processes and contributes to a relaxed restaurant visit. Try it out and experience the difference!
We hope that this article has given you a good overview of how the SERVICEINDICATOR works. If you have any further questions or would like personal advice, please do not hesitate to contact us. We look forward to helping you take your restaurant to the next level!