Up-selling: Gastronomy's Game-changer
Discover SERVICETUBE®, the restaurant industry's secret weapon to revolutionise your branding and increase sales. With interchangeable backlight foils for personalised branding and effective up-selling right at the table, SERVICETUBE® takes your business to the next level.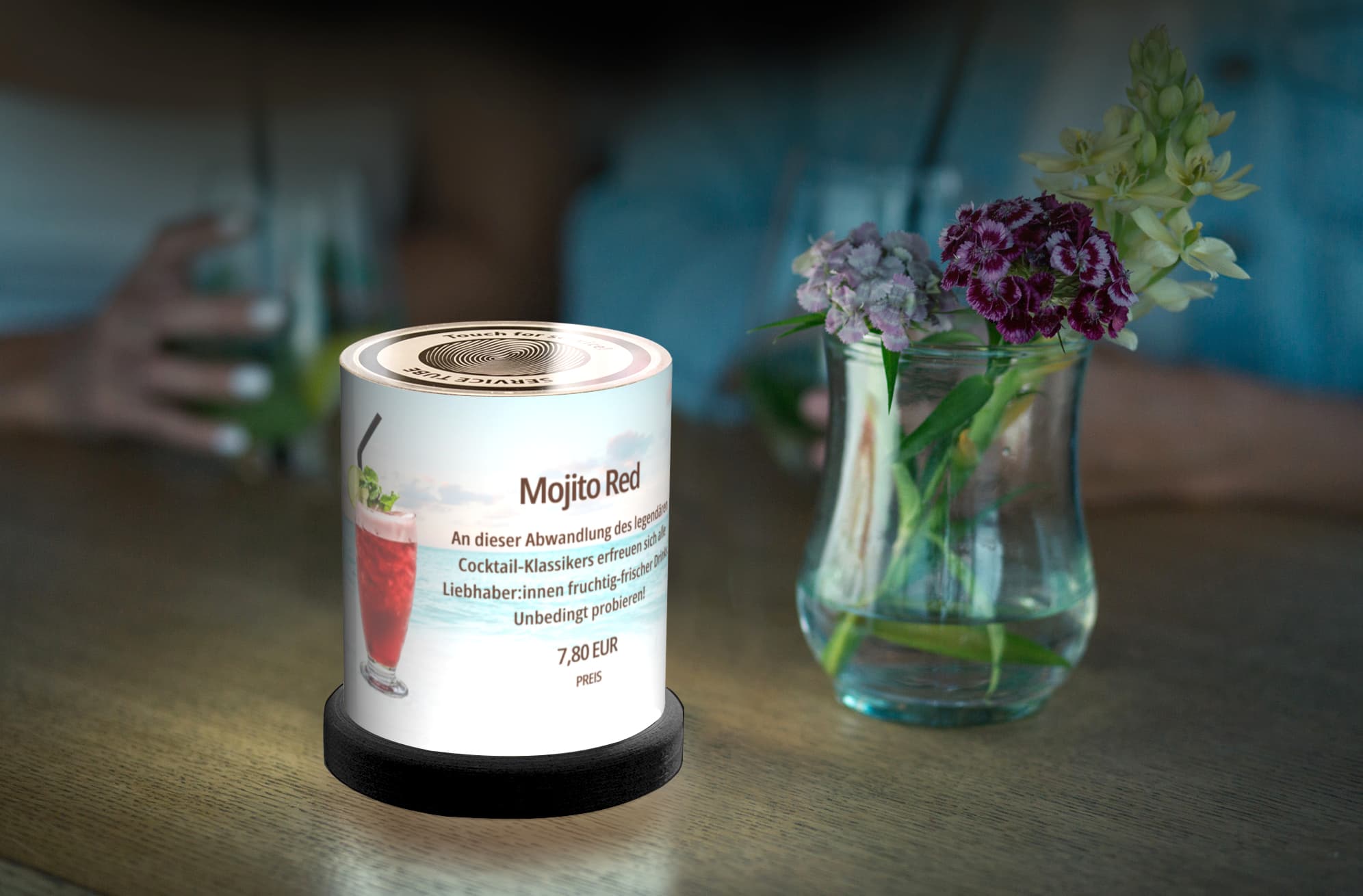 The Ledovation Waiter Call System is more than just a waiter call system - it offers you the opportunity for flexible branding. Thanks to interchangeable backlight foils, you can place your logo, special food and drinks or current promotions on each tube. The visual appeal of these customised foils not only attracts the attention of your guests, but also leaves a lasting impression.
Up-selling made easy:
The backlight foils in the SERVICETUBE®s offer a great opportunity for effective up-selling directly at the table. Even before you bring the menu to the guest, high-quality drinks, special theme weeks and unusual dessert creations are advertised at the table. This way you can subtly influence the ordering behaviour of your guests and increase your turnover.
Strengthen your brand
Our SERVICETUBE®s allow you to present your restaurant as unique. By customising the backlight foils, you can clearly communicate your brand message and ensure that your guests remember your name and are happy to come back.
Easy replacement for maximum flexibility
Another advantage of the SERVICETUBE® is the ease of use when replacing the backlight foils. With just a few simple steps, you can change the foils as required and thus adapt your branding to current promotions or seasonal themes.
We are happy to assist you in this process, whether by using our templates or with an individual design entirely according to your wishes.
Conclusion
SERVICETUBE® offers you an innovative way to implement flexible branding in your restaurant while increasing sales through effective up-selling. The interchangeable backlight foils allow you to incorporate your logo, key texts and creative graphics and leave a lasting impression on your guests.
Take advantage of this offer to strengthen your brand, positively influence your guests' ordering behaviour and achieve long-term success in the catering industry.